Digitization for the Orthopaedic Technology
How digital are you already?
How exactly do I produce a prosthesis test socket in my workshop? Where do I have an opportunity to use a digital production step? In general, what is the advantage I have?
For this purpose, we created a comparison chart for you to find out, which steps and which degrees of digitization there are.
What do you have to think about, when you are planning to establish 3D printing into your workshop? One step closer to a full-digital production means mostly an extensive change. Our comparison will show you undividable steps and flexible variation possibilities.
Green steps represent digital solutions. Hatched areas are standing for possible variations.
What does digitization mean for the orthopaedic technology?
Everybody talks about digitization. And if you look closely, you will already find a lot of digitized work around you. Shopping via the Internet or digital accounting are just a few examples of digital relief.
However, there is a major hurdle in implementing digital methods in most workshops. The fear of job losses and the presumed high investment costs make many industries shrink away from the digital change.
Relieve workshop, create competitive advantage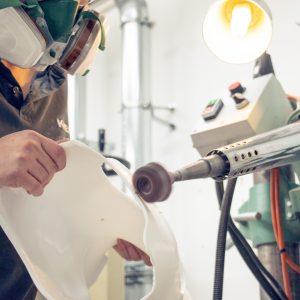 Instead, digitization creates an attractive workplace for the next generation. Space for qualified personnel and space to increase your productivity. Eliminate the risk of a bad investment by preparing well.
Good preparation primarily consists of training your employees in the tools they are about to use in their routines. Specifically: Learn to use 3D scanners and CAD software. This makes the use of modern production methods worthwhile and automatically leads to the expected increase in productivity.
The potential that comes with good preparation is primarily due to the FFF technology. This form of 3D printing is straightforward for your orthopaedic devices manufacturing and allows you to finish with traditional orthopaedic techniques such as sanding, sawing or thermal forming.
Produce with 3D printing: Cosmetic Prostheses Covers, Orthoses, Prostheses Test Sockets,…
With zero investment risk, we offer you our 3D printing service. This will allow you to gain initial experience with the technology and to test integration into your devices production.
You are already working with 3D printing and you want to get started with your own machines? We recommend a system that is suitable even for body jackets due to its large build volume. In addition, the build chamber and the print table should be fully heated so that your aids can be printed with extraordinary strength.
Our VP75 is an additive manufacturing system that is deployed all over the world for use in orthopaedic supplies fabrication and will set you apart from your competitors.